CAD/CAM Support Data Pack VOL.9
supported language

Japanese/English/Chinese
Operating environment

Windows Vista, 7, 8, 10
caution
It has been confirmed that there is a bug in the CAD/CAM Support data pack software, and an incorrect value is displayed for the effective neck length for some products. For customers who have already downloaded VOL.1 to 7, we apologize for any inconvenience this may cause, but we ask that you please delete the files and download the latest version, VOL.9.
Overview of CAD/CAM Support Data Pack VOL.9
CAD/CAM Support Data Pack VOL.9 is a comprehensive program that allows you to search for MOLDINO tools (End mill only) and calculate interference angles based on workpiece shapes. Please download the program below and use it after unzipping it on your computer.
(Data is compressed in self-extracting ZIP format. No installation required on the OS)
Save "CADCAM_SDP9.exe" to any location on your computer from the above. When you open the saved data icon, you will be asked where to extract the program. If you specify an arbitrary location or proceed without entering anything, it will be expanded to the same location as the original data.
Launch the ``cadcam data pack9.exe'' in the ``CADCAM_SDP9'' folder created after extraction, and the launcher will start up, so select the desired language (Japanese/English/Chinese).
To display the Cutting Conditions table, Microsoft EXCEL (2003 or later recommended) must be installed.
When opening DXF data, an application that can handle DXF data must be installed.
If the screen setting is expanded to 125% in Windows 7, it may not be displayed correctly.
Search by work shape
Click the "Search by work shape" tab.
Enter any workpiece specifications in the workpiece shape column and click [Search]. A list of applicable tools will be displayed in a separate window.
If there are too many search results or if the tool shape has already been determined, you can narrow down the tools using the "Tool Shape Filter" at the bottom.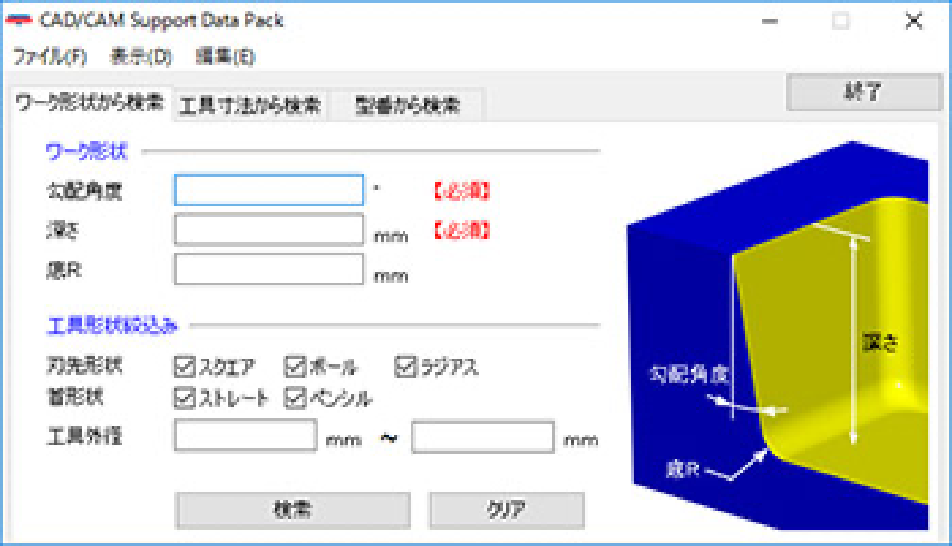 Search by tool size
Click "Search by Tool Dimensions".
Enter the tool specifications and click [Search] to display a list of applicable tools in a separate window. A range can be specified for each dimension of the tool.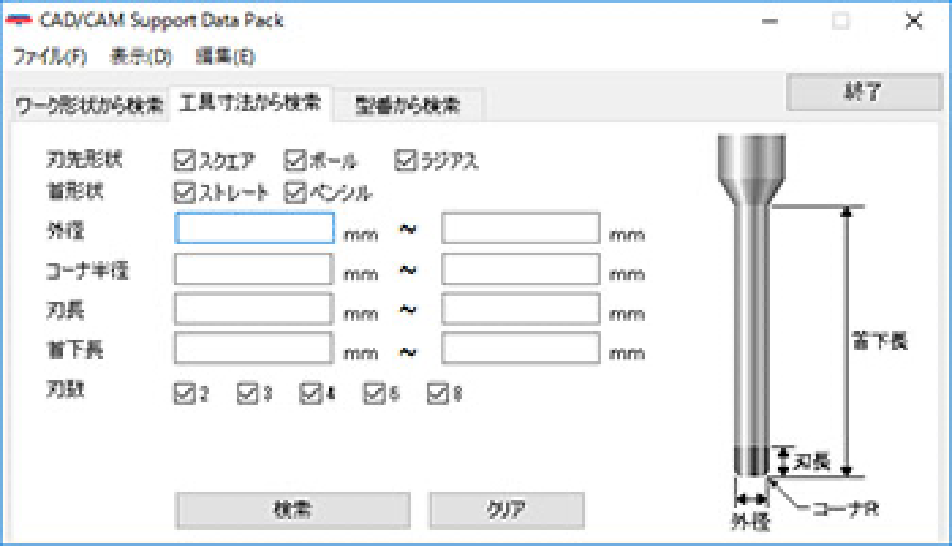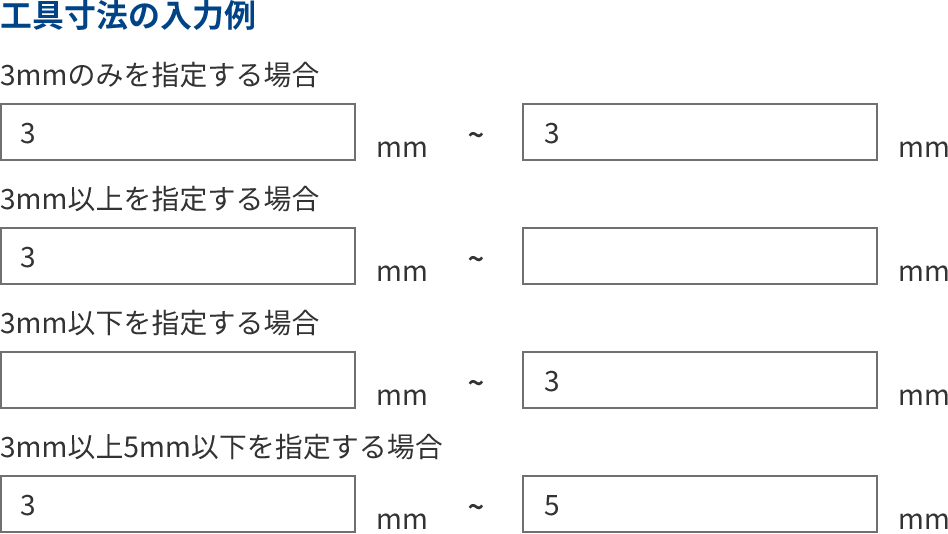 Search by model number
Click "Search by model number".
You can search by MOLDINO tool model number (product code). Since it searches by partial match, it is possible to search even from part of the model number of the tool.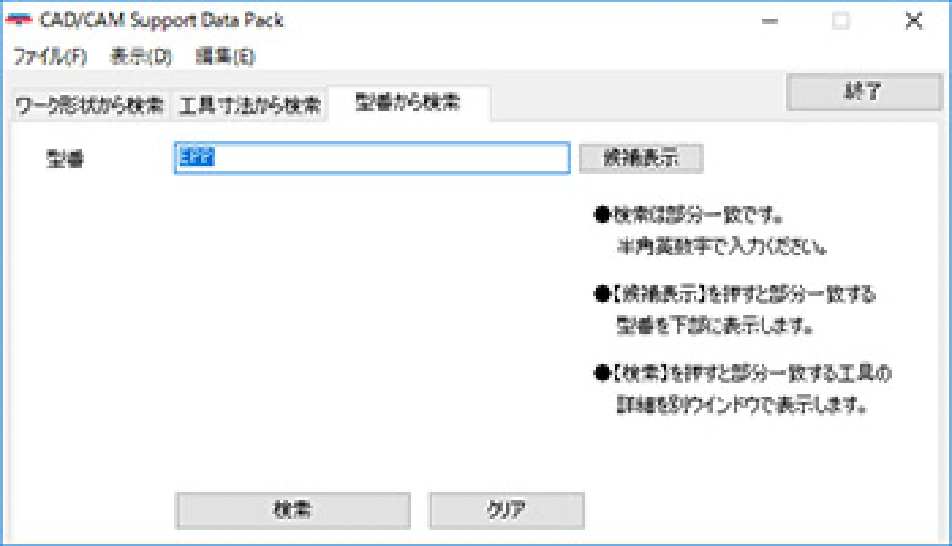 Search result list
Lists tools that match the search criteria.
Click the title of each item to sort.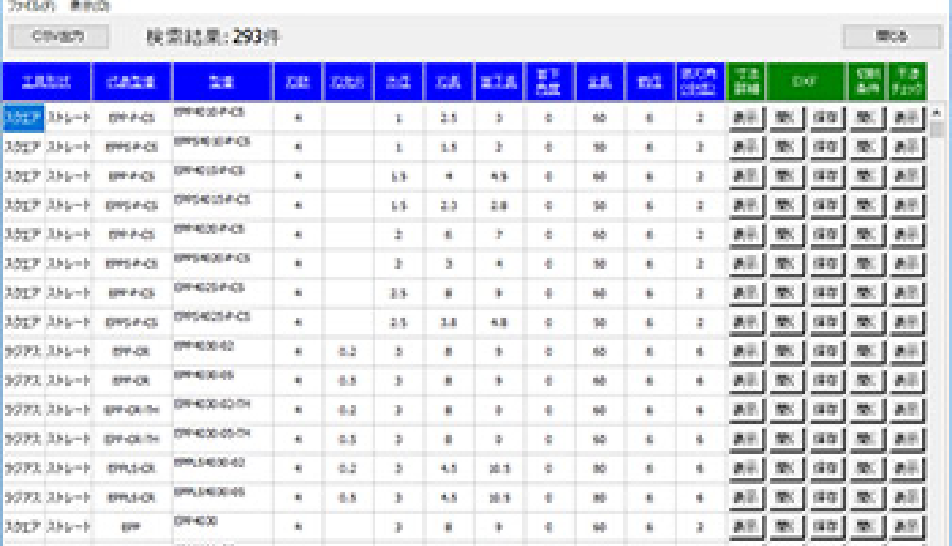 CSV output

Output the search result list to CSV data

Dimensional details

Displays details of tool dimensions and shapes

DXF

Save or open DXF data

Cutting Conditions

Open the Cutting Conditions table (Excel)

Interference check

Open the interference calculation with a workpiece with a slope angle
Interference check function
Enter the work slope angle and click [Calculate].
The actual effective under-neck length for the selected tool and work draft angle is displayed.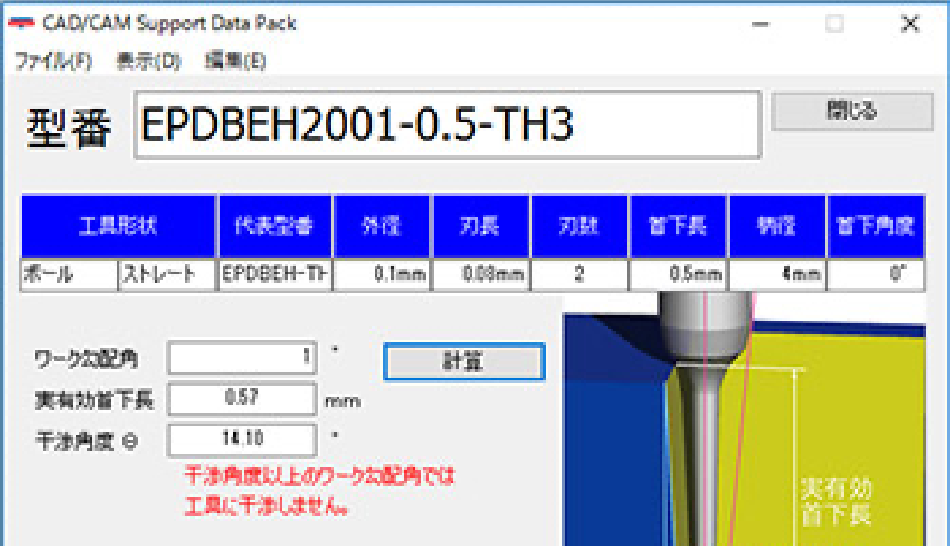 Weekdays 10:00-16:00
*Technical Inquiry
E-mail magazine registration